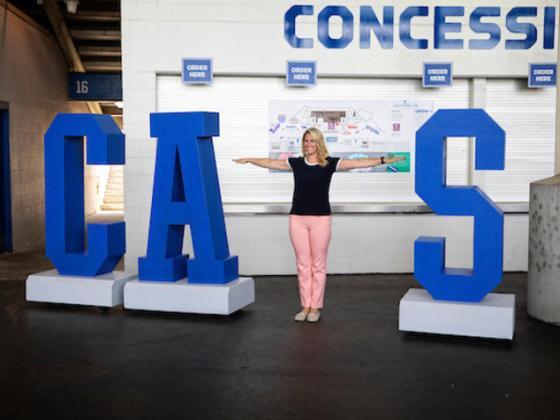 Join us for UK Appreciation Day - May 26, 2022!
Gatton Student Center, 10am - 2pm
Free Lunch -  Activities - UK Department and Vendor Exhibits
All University of Kentucky employees are invited to attend the 2022 UK Appreciation Day from 10 a.m. to 2 p.m. Thursday, May 26, at the Gatton Student Center. This year's event will take place outside, weather permitting.  Vendors will be stationed along the walkway behind the student center and activities will be there as well as in Stoll Field between the Gatton Student Center and the Otis A. Singletary Center for the Arts. Grab a free lunch inside the Student Center's Ballroom A, and enjoy it outside under the tent in Stoll Field. We invite you to join us to celebrate YOU! 
Supervisors are encouraged to adjust schedules accordingly without requiring leave to be utilized. UK HealthCare employees should notify their supervisors in advance if they would like to attend, so schedules can be adjusted accordingly not to impact patient care. 
All Appreciation Day activities are free and include: 
Lunch 

Bluegrass Photobooth 
Games and inflatables

Karaoke with Riptide Productions

Caricatures with About Faces Entertainment

UK Department and Vendor Exhibits 
Employees can join University of Kentucky HR Health and Wellness for opportunities to relax as well as have fun during UK Appreciation Day! No special equipment or clothes are needed.
Parking at Gatton Student Center is limited so employees are encouraged to utilize UK's on-campus bus routes.  UK Appreciation Day attendees may utilize the Blue Route and White Route provided by Lextran. 
Campus buses can be tracked in real time using the TransLoc Rider app on iPhone and Android devices or by visiting their website here, allowing users to plan for delays caused by traffic, accidents or inclement weather. 
T-SHIRT DISTRIBUTION 
Department order t-shirt distribution is TBA.   There will be pickup locations at Kroger Field and UKHC PAV A.  Department order contacts will be receiving emails once delivery is finalized with the vendor which will include pickup instructions. Pickup instructions will be based on your pickup location selected when you placed your order earlier in the year.  You must have your confirmation number and UK ID to pick up your t-shirt order.  There will be no individual shirts available. Pickup is limited to orders previously placed.  
The UK Staff Senate extends a special expression of thanks to the Office of the President, exhibitors and University of Kentucky entities whose support makes UK Appreciation Day possible. 
UK Appreciation Day is sponsored by the Office of the President, coordinated by the UK Staff Senate